Fast, secure and cost-effective virtual servers
With over 20 years of experience in operating business-critical IT, the choice for the next generation virtualization platform felt easy. Our VPS platform is based on OpenStack, which was developed by NASA and is one of the fastest growing platforms in the world for operating and managing virtual servers.
In our cloud for VPSs, you can choose to create servers in two different so-called "Compute Zones". You can mix servers between the zones and thus ensure that you get a VPS that is tailored to your specific needs. All virtual servers run on virtualization clusters that reduce the risk of downtime in the event of hardware incidents. In the event of a hardware failure, another takes over automatically. All data is also stored on a mirrored SSD disk.
Compute Zone General Purpose
Suitable for most types of services, such as web and database applications.
Compute Zone High Performance
This compute zone is suitable for the most demanding applications.
Always included at beebyte
Our hosting on your terms – you choose when you want to end your services.
We are always there when the accident happens – just a chat away.
You can be sure that all your data is stored within the country's borders.
We make sure that our cloud services perform at their peak 24/7
With beebyte Public Cloud based on OpenStack
Create and manage snapshots directly in the control panel.
Choose between different policies for how your data should be replicated.
Manage IPSec VPN directly in the platform to create hybrid solutions.
Create and manage networks for your solutions via the control panel.
Manage keys for easy and secure ssh access.
Create your own L3 routers to connect your networks.
Use templates and images to quickly create new servers.
Full support for floating IPs.
Choose from a range of different operating systems such as:
Linux Ubuntu
Windows Server (2019 2022)
Linux Debian
Linux Fedora
Rocky Linux
Arch Linux
You can also install from your own templates and ISO's
A 100 mbps connection to the internet is always included at no extra cost. 5 GB network transfer / hours, 50 MIOPS write and 100 MIOPS read per month. Our SLA Basic is also included at no extra cost. Read more about our different options for service agreements here. Any operating system licenses for Windows Server are included.
Price calculator general purpose
Here you can calculate approximately how much it costs to have a General Purpose VPS with us!
Just drag the symbols back and forth to scale up or down. You can see the price on the right.
Processor
Each core runs on a 2.4 Ghz Xeon server CPU
IP
Number of IP addresses for your server
Memory
Disk
Backup
5 GB bandwidth included
every hour

, via 1000 Mbit/s uplink
Choose SLA type
SLA Basic
SLA Platform Plus
Create account
Easy with beebyte Public Cloud
In beebyte's server manager, you can adjust your infrastructure at any time so that it meets your expectations. Via the server manager, you have direct access to your server via console. Below are some examples of what you can do in the server manager: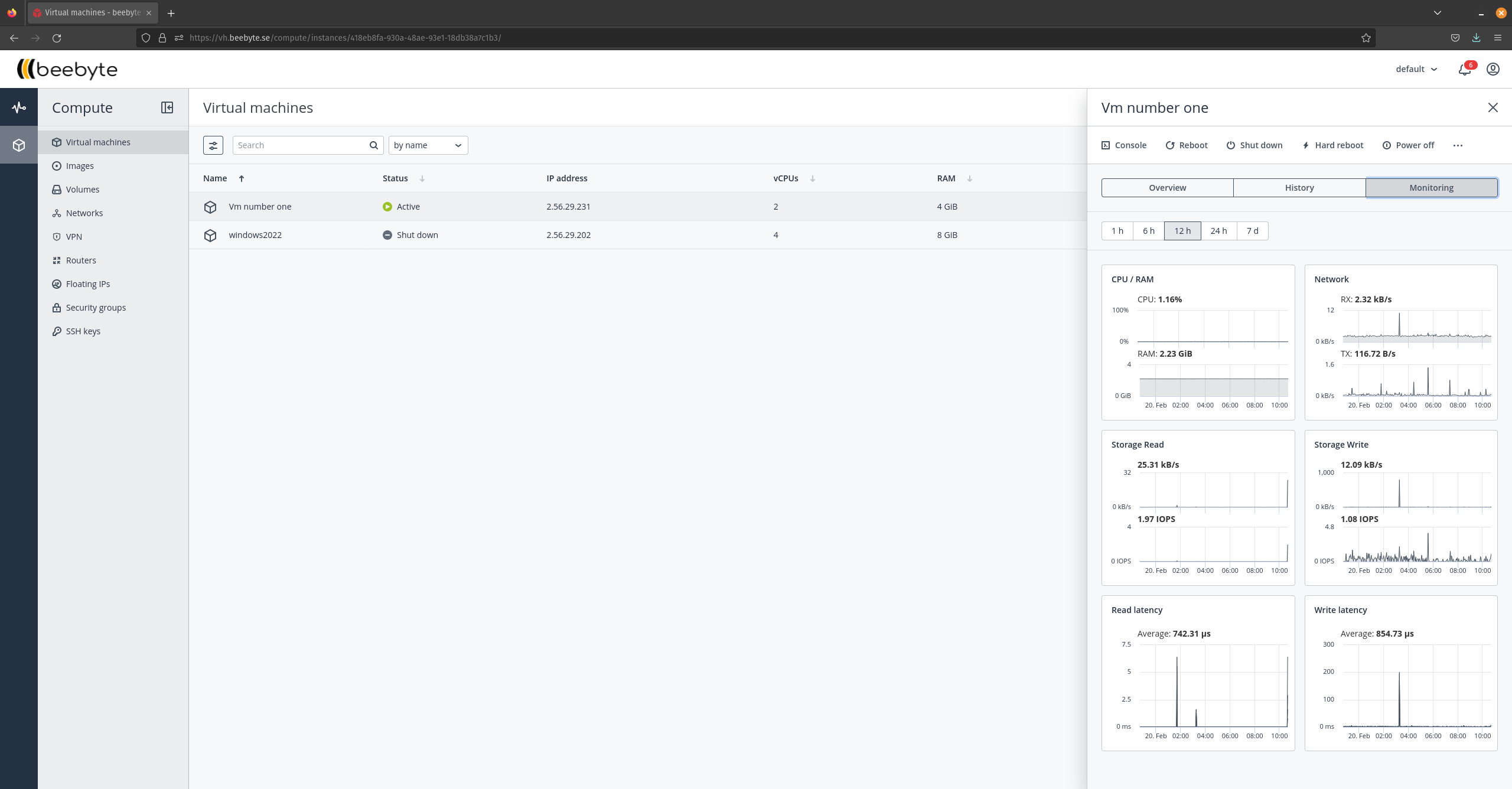 We help you choose what suits your specific needs and respond to any thoughts or questions that you have. Contact us today and we will help you:
Create an account and try us for free!
Use the discount code "startnow" to get 50€ to test run our top modern Swedish data centers. Fill out the form next to start using your VPS or shared hosting today.