As one of the few hosting, cloud and VPS providers in Sweden, we choose to continuously and automatically, publicly report our uptime. This is because we think that you as a customer, in addition to our already tough SLA levels, should be able to feel confident in what you get when you buy your cloud services from us.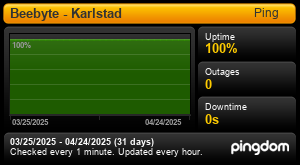 Our uptime is continuously measured and published here on the left with 31 days of history. Uptime is measured on the infrastructure as a whole and not on individual objects. The measurement point is from globally deployed servers, whereupon routing errors on the internet globally are included.
Why accessibility matters
Actually, it goes without saying. If your vps, website or server is frequently unavailable, eventually the visitors and users will stop visiting the site. Having the store open is, so to speak, a prerequisite for someone to be able to shop.
We have put a lot of focus on ensuring that our cloud services are always there, with the highest performance.